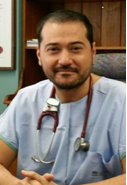 Dr Dominic Simring

BSc (Med) MBBS (Hons) FRACS (Vasc)

Recently, Northern Rivers Vascular underwent a makeover and launched itself as Coastal Vascular Group as part of the modernization of the group.
Conveniently located at St Vincent's Lismore, it is Coastal Vascular Group's goal to offer the highest level of modern endovascular service available to the patients of Lismore and its surrounding areas.  As part of one of the largest regional Vascular Units in Australia, Dr Simring is proud to offer a comprehensive minimally invasive arterial and venous surgery service to patients.
For more information regarding our services and 24/7 care available to you please visit Coastal Vascular Group's new website – www.coastalvascular.com.au.